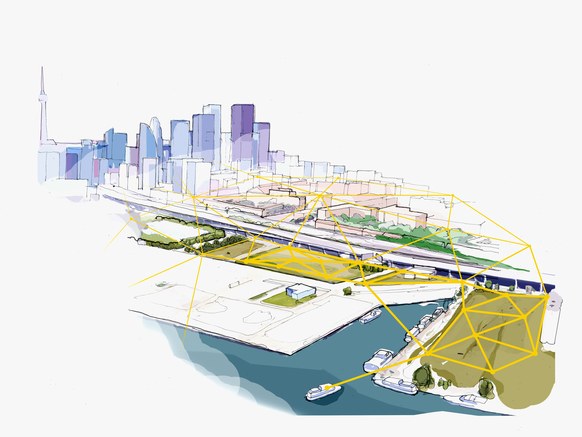 Image via Sidewalk Labs
Google subsidiary, Sidewalk Labs (SWL), is building a 'smart-city' on a 12-acre stretch of Toronto waterfront known as The Quayside. The area is intended to serve as a futuristic laboratory for new data-driven approaches to urban living – a blend of technology and urbanism – that will feature public outdoor space, retail, residential, and office rentals.
The area will be outfitted with sensors to track traffic flow, weather, pollution levels, you name it. As per the SWL Toronto website, SWL hopes to, "demonstrate how emerging technologies can make cities more affordable, easier to travel within, and more environmentally sustainable." This includes plans for garbage collection robots, self-driving taxis, and fluctuating parking rates. With the amount of data that will be generated and collected in the process, we have to wonder what kind of privacy protection will be implemented.
Like any major real estate development, response to the smart city has been controversial. Some are of the opinion that Toronto's waterfront should instead serve as green space for families to picnic and escape the concrete jungle. Others, look at the deal as an off-loading of responsibility and future control in exchange for a lump sum of money to the tune of $50 million.
But, what does it mean for Toronto real estate?
You may have heard that Toronto recently surpassed Silicon Valley in the creation of tech jobs. Toronto is making a name for itself as a tech hub, and to be frank, there is money in tech. Included in SWL's plan is a new headquarters for Google. Much like the buzz caused by Amazon's quest for its second headquarters, Google's new digs will attract people to our city and these talented, well-paid tech professionals will need places to live.
Assuming Google doesn't use the smart city's residential units as a way to house imported talent, this surge of jobs could increase the price of downtown real estate. That said, Google is famous for creating campus-like offices, and it's entirely conceivably they will keep the residential units for themselves; nothing has been stipulated yet.
Aside from the impact of job creation, there's a conversation to be had surrounding whether 'social space' or innovation is better for Toronto's long-term economic health.
As our city's population grows, the density per square foot of space increases. To accommodate, we build up – higher towers with more compact floor plans to house as many people in as small a footprint as possible. The idealistic big backyard and white-picket fence dream is no more. The thought is that the city should compensate by creating more social places, and that Toronto's waterfront should be reserved as a public-gathering spot.
While it would certainly be nice to congregate for a barbeque along the water, Toronto doesn't have a shortage of lush lawns. Our city is currently listed in the top 10 greenest places in the world. Some of our larger, beautiful parks include Trinity Bellwoods and High Park.
The Quayside development will be comprised of mid-rise buildings crafted from sustainable material wherever possible. Currently, the goal is to incorporate mass timber for "biophilic design." Spruce beams, glued together and cut from small, sustainably harvested trees will mimic a faux forest – promoting the idea that a connection to nature makes people healthy and happy.
Unlike traditional parks that are too cold to enjoy from November to March, SWL proposes to situate the buildings so as to produce comfortable microclimates. The goal is minimize the wind and make the parks enjoyable year round. This includes making use of portable shelters for the public to take breaks from the wind on their commute, and a raincoat of sorts for buildings.
Alas, the question remains: Under what conditions will the ground floors of these buildings be open to the public? More importantly, who is considered part of the "public?"
Another objection to the development, and one that depicts densely populated areas in a poor light altogether, is outlined in this article. Supposedly there are health risks to living in the clouds. This study found that patients living on the 25th floor or higher had a post-cardiac arrest survival rate of 0 because emergency response couldn't get to them on time. While it's an upsetting figure, skyrises are a reality, and if Google can create garbage disposal robots, surely they can architect buildings that address these concerns.
What the naysayers fail to see is this: Google is proposing ground-breaking innovations to city living. Successful completion of this project should pave the way for more new ideas that position Toronto as the place to be. As we know, from a real estate perspective this is a win.
We know from history that people don't like change. But it appears that SWL and the city are working closely to mitigate and foresee any potential destruction that could be caused by the project. We'll know more about the public opinion as project details are released. The sensitive issues will undoubtedly pertain to data collection, anonymity, and the definition of 'the public.'
What do you think?