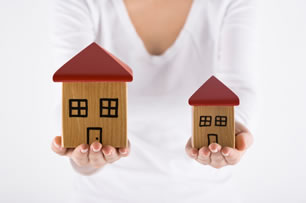 For some, downsizing may be an intimidating concept. But with a bit of strategic planning and organization you can easily take the worry out of it. It's important to ask yourself if downsizing is actually the best option for you.
How much space do you realistically need (or want)?
As time marches on our lives and needs change. If you live in your family home where you raised your children, you probably find yourself now with somewhat of an emptier home. The kids grow up and head off to university or simply move out on their own, leaving their rooms vacant, and perhaps a couple of other rooms that they used to hang out in. So now what? You have the memories connected with this home, but you also have the extra costs of upkeep and perhaps financing all this extra space.
Where else could your money be spent?
It should come as no surprise that many homeowners are relying on their home to fund part of their retirement. So ask yourself if it really makes financial sense to have hundreds of thousands of dollars tied up in a home that's too large for you? Probably not. Selling your  home and purchasing something smaller will provide you with a world of opportunities. Travel?…early retirement?…both sound great to me!
Whether you like to do-it-yourself or hire the professionals to come around, there is no getting around the fact that every home needs it's regular upkeep. Folks seem to be wary of condo fees, but truth is that it's generally less expensive to pay condo fees than it is to maintain a family home in Toronto. What may seem insignificant at the time, these fixes and preventative maintenance items can end up costing you more than you realize. But it's not only costs that you should be aware of. How about your ability to keep up with the maintenance of your home? Whether it be cleaning, cutting the lawn, or clearing the gutters, many of us don't have the energy or physical capabilities like we once did.
Will your guest list really be that long?
One of, if not the biggest reasons for downsizing is that your kids have flown the coop and you are left with an empty nest. While it may ease the pain of an empty house by keeping those bedrooms ready for visitors, frankly it isn't practical to be heating, cleaning and storing items in those rooms. Perhaps it's wise to purchase (or rent) a place with 1 extra bedroom for those times that the kids come back. You can even rent out the guest suites, or host your 20-person Thanksgiving dinner in the party room, all of which are amenities that are typically found in condo buildings now.
One of the most exciting (and scary) parts about downsizing is getting the opportunity to live in a new neighbourhood. If you're currently in the suburbs, imagine being able to walk to cafes, theatres and parks.
Just because you are planning to downsize doesn't mean that you have to give up your freedom or autonomy, it's all about the lifestyle you want. Sure you may be giving up your private garden oasis backyard, but you'll be gaining time (and cash) to spend on doing the stuff you enjoy!
Now that you've made the leap and a smaller space is in your future you'll definitely want to keep a few things in mind before your move. If this is a long-term move, avoid moving somewhere with lots of stairs. It may not feel like it now, but your knees will thank you later. Moving is the perfect opportunity to throw out or donate items that you no longer need, or haven't used in ages. Knowing that you have limited space where you are going should be great motivation to purge those unnecessary items. If you have 3 sets of dishes, chances are you only will need one. Maybe you're the type who keeps every christmas card you've ever been given. While the memories are wonderful, they are just that, memories. Make a point of moving just the important stuff with you.
Going from 2,500+ sq.ft. to roughly 900 sq.ft. can lead to lots of stress and anxiety for anyone who loves their belongings but hates living in clutter. Seniors, empty nesters or people moving from a suburban home to a city apartment all face the challenge of creating a new living space with limited room for furniture, accessories, clothes and collectibles. But if you come up with a plan before you downsize, you can create a comfortable and stylish environment made for daily living. Read last month's blog Living large in your small space for some great advice so your small space doesn't leave you feeling claustrophobic.
I have a list of downsize companies that will assist you with getting rid of your belongings in a very organized fashion. Let me know if you'd like a recommendation or two!