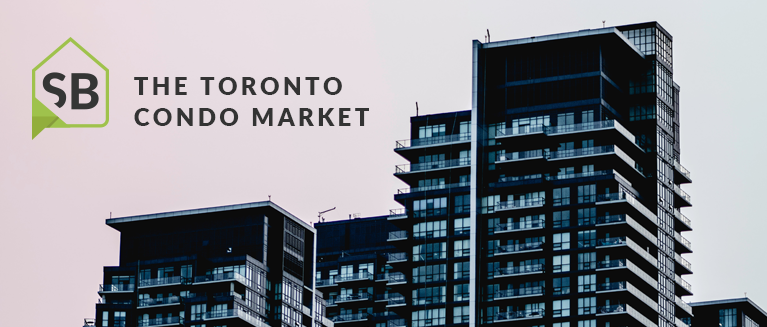 A few weeks ago, we explored the concept of the bubble that is frequently used to describe the state of Toronto real estate. In particular, we touched on how the greatest threat to this bubble is new development, and how it could cause housing supply to exceed the corresponding demand. I'm of the opinion that this isn't possible – if you want to find out why, check out this blog post.
While the entire Toronto real estate market has witnessed substantial growth over the last decade, it's really the condo sector that's leading the way. Likewise, it makes sense to think that the condo market will be to blame if it all come crashing down. Let's take a closer look at what Toronto's condo real estate has done over the last decade, and where we expect it will go over the next one.
Since the start of 2009, after the U.S. housing market crash, the GTA condo market has enjoyed a prolonged and steady upwards trajectory. Consumer confidence was fully restored by 2011, and a record number of GTA condo sales proved it, 28,000 of them to be exact.
Developers were excited about the lucrative opportunities that Toronto represented, and new builds started popping up all over the place. This is around the time people started to panic. The general consensus was that so much new development would lead to oversupply, a mass sell-off by overseas investors, and a pending crash similar to what the States had experienced just a few years before.
…but that didn't happen. Instead, condo sales remained strong. You'll remember that in 2017 the condo market had one heck of a year, gaining 35% across the average sale price. In response, the government tried to stifle further growth by introducing buyer obstacles. These included the mortgage stress test, foreign-buyer taxes, and interest rate adjustments.
Meanwhile, the spike in the number of development sites led to increased construction costs and longer build times. While this may seem prohibitive, and it certainly is for people who wish to actually live in these condos, longer build times make it easier for investors to justify higher condo prices now because they expect the market will appreciate enough to generate ROI by the time the build is complete.
Rent control, or the lack thereof, has also added an interesting dimension to new developments. Rent is controlled on buildings constructed prior to November 2018, but new builds aren't subject to the same rules.
This is important because the rental market is under supplied. A major consequence of the mortgage stress test was that it made it harder for first time buyers to enter the market, this means people are renting longer and the demand for rentals goes up. With no rent control on newer builds, investors can charge rent that is much higher than it's been in the past.
There are a lot of moving pieces to keep track of, but the gist of it is this: the condo market is hot and largely driven by developers and investors.
Amidst the chaos and allure of profit, developers must be responsible about buying land for reasonable prices. If not, the end-selling prices will be unaffordable to buyers. On the flip side, investors should be wary of overpaying for excessively priced developments.
As long as foreign investment in Toronto remains strong, I believe the condo market can and will remain strong. I do not expect the bubble to pop, but perhaps we'll experience a slight pull-back that will help restore some balance to supply and demand across both the purchase and rental markets.