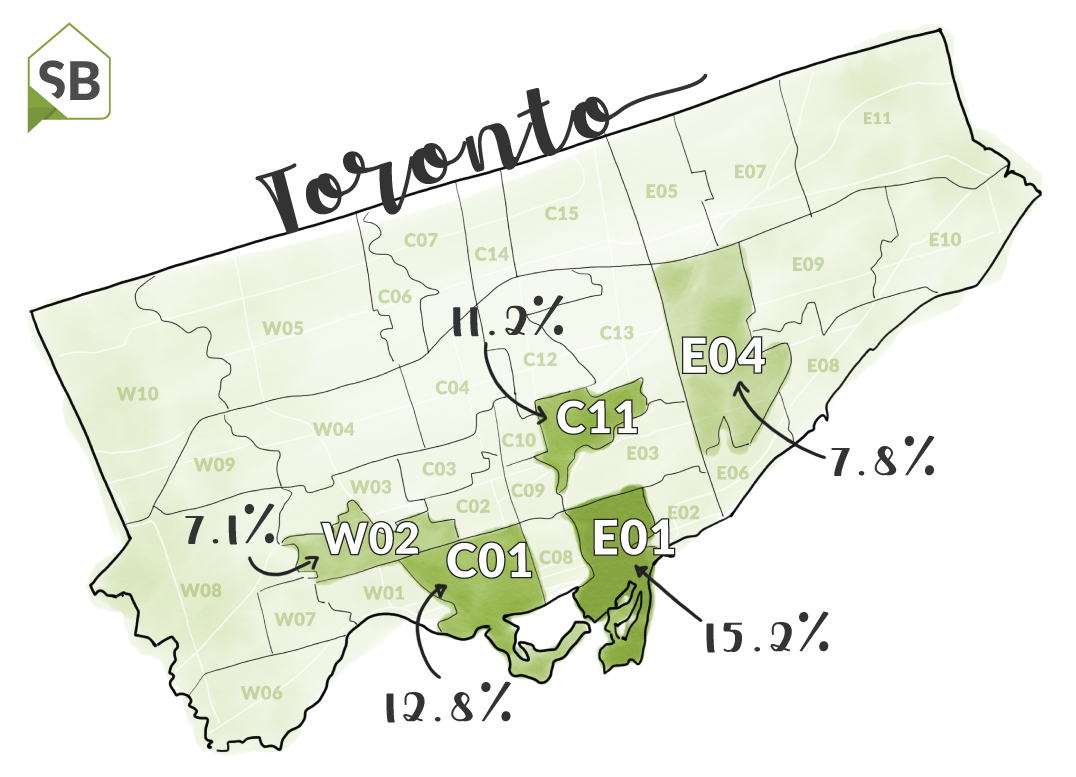 Despite government intervention intended to cool the growth of Toronto's real estate, the market is on a roll. At the end of summer we talked about the 'bubble' and whether or not it's likely to pop soon. More recently, we took a deeper dive into the Toronto condo market. Today, we look at which areas of Toronto have been growing the fastest.
Over the first six months of 2019, the number of detached sales were up in all but 8 of the 65 districts in the City of Toronto. Price gains have followed-suit.
E01, the district containing North Riverdale, South Riverdale, Blake-Jones, and Greenwood-Coxwell, has seen the fastest growing prices this year. The average sale in the area is $1,378,987…that's up a whopping 15.2%.
On the heels of E01, is a Central Toronto neighbourhood that includes Trinity-Bellwoods, Palmerston-Little Italy, Niagara, Little Portugal, Kensington-Chinatown, and Dufferin Grove (CO1) where sale prices have increased 12.8%. The brings the average value up to $1,953,511. At nearly two million dollars, this 12.8% increase represents a return of $250,000 in just six months.
Rounding out the podium is district C11, home to Leaside and Thorncliffe Park. This area saw prices rise 11.2% to an average sale price of $2,193,747.
Notable mentions go to for E04 (Scarborough neighbourhoods) and W02 (the Junction, High Park, Bloor-West Village) with price increases of 7.8% and 7.1% respectively.
We expect prices will continue to rise through to the end of 2019 and well into 2020, but it's unlikely that the aforementioned areas will experience sustained growth at this pace. If these areas aren't of interest to you, consider those that neighbour them. My bets are on E02 and E03 (Broadview North, The Danforth, The Beaches) for the next growth hotspots. If you're curious about the kinds of homes that fit your budget in these areas or others, let's chat. I'd love to help you find your dream home or a great investment property!